Forbidden City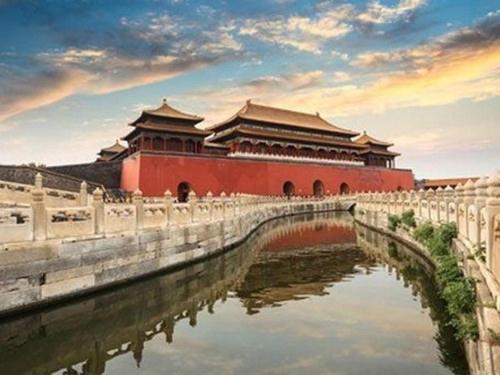 The Forbidden City was the Chinese imperial palace from the Ming dynasty to the end of the Qing dynasty—the years 1420 to 1912. It is located in the center of Beijing, China, and now houses the Palace Museum. It served as the home of emperors and their households as well as the ceremonial and political center of the Chinese government for almost 500 years.

The Forbidden City is a rectangle, with 961 metres (3,153 ft) from north to south and 753 metres (2,470 ft) from east to west. It consists of 980 surviving buildings with 8,886 bays of rooms. A common myth states that there are 9,999 rooms including antechambers, based on oral tradition, and it is not supported by survey evidence. The Forbidden City was designed to be the centre of the ancient, walled city of Beijing. It is enclosed in a larger, walled area called the Imperial City. The Imperial City is, in turn, enclosed by the Inner City; to its south lies the Outer City.

The Forbidden City remains important in the civic scheme of Beijing. The central north–south axis remains the central axis of Beijing. This axis extends to the south through Tiananmen gate to Tiananmen Square, the ceremonial centre of the People's Republic of China, and on to Yongdingmen. To the north, it extends through Jingshan Hill to the Bell and Drum Towers. This axis is not exactly aligned north–south, but is tilted by slightly more than two degrees. Researchers now believe that the axis was designed in the Yuan dynasty to be aligned with Xanadu, the other capital of their empire.
Location of Forbidden City
The Palace Museum is located in the heart of Beijing. Visitors will be excited to find a wide variety of historic sites, scenic parks, shopping malls, museums, and theatres in her vicinity. Conveniently located bus stops and subway stations provide easy access to transportation.
Openning Hours of Forbidden City
April 1st - October 31st: 8:30 to 17:00 (last entry: 16:10)
November 1st - March 31st: 8:30 to 16:30 (last entry: 15:40)