Beijing has modernized so rapidly that it's hard to imagine what it must have been like in decades past. One neighborhood, however, has managed to hold on to its old-style hutong architecture: the Back Lakes (Hou Hai or Houhai). Named after the three Shichahai lakes in the area, the Back Lakes neighborhood is one of the last remaining places in Beijing where you can see traditional courtyard-style houses.

While wandering the hutongs allows visitors to see Beijing as it once was, the streets surrounding the lakes, particularly Hou Hai (the largest of the three) show you a modern, hip and multicultural side of Beijing. The banks are lined with shop, stalls, restaurants, bars and hookah dens catering to tourists, locals and the city's sizable expatriate population alike, making it a fun and bustling place to browse for souvenirs. The breeze from the lake offers a respite from the heat, and boating activities are also available on the lake itself.

The best way to enjoy the Back Lakes area is to take a rickshaw tour of the old hutong neighborhoods in the afternoon. Afterward, take a leisurely walk around the lake before settling in to a table at a restaurant or bar balcony for dinner and drinks as you watch the world go by.
Transportation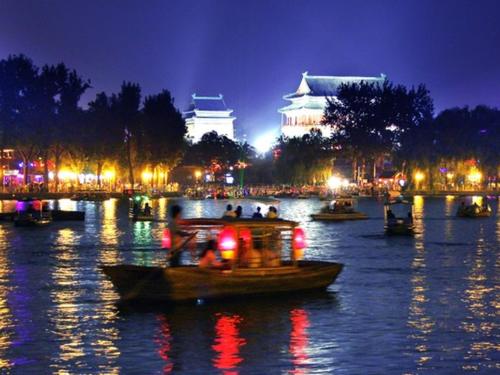 Houhai is located in the Xicheng District of central Beijing. The nearest subway station is Beihai North on Line 6, and there are a number of bus routes also serving the area.